PCS Military Families Seek Prime Colorado Springs Real Estate & Resources
Colorado Springs real estate is close five US military bases, renowned medical facilities and good schools.  This post sounds off about neighborhoods, recreation, education, and culture that thrive in this idyllic setting.  From 6100-foot elevations at the foot of Pikes Peak, we survey the Rocky Mountains to the west and the high plains to the east.  And we travel along the Front Range of the Colorado Rocky Mountains to broaden our view.
We hope to inspire the relocating PSC military families with the many amenities found here.  There are reasons we receive honors as the Best in our class.  A variety of unique amenities greet newcomers with a smile.  In this article, we hope to introduce you to things we love about our city.
From the top of Pikes Peak, Katherine Lee Bates penned the lyrics to "America the Beautiful."  She saw the majesty from the summit; we usually find the splendor from its base. Colorado Springs was founded in 1871 and grew heartily after General Palmer installed the railroad.  People first came for the climate, healing and gold. Today, 700,000 residents kindle the heart of prime Colorado Springs communities.
Colorado Springs Real Estate near Military Bases
Military families often return to connect or reconnect with the many desirable neighborhoods and superior lifestyle options.
FORT CARSON in South Colorado Springs Real Estate
Fountain, Security-Widefield, Stratmoor, Broadmoor
US AIR FORCE ACADEMY in Northwest Colorado Springs Real Estate
Briargate, Gleneagle, Peregrine, Woodmen, Black Forest, Flying Horse
PETERSON AIR FORCE BASE in East Colorado Springs
Security-Widefield, Downtown, Cimarron Hills, Falcon
SCHRIEVER AIR FORCE BASE at the Colorado Springs Regional Airport
Cimarron Hills, Old Colorado City, Broadmoor, Old North End
NORAD/CHEYENNE MOUNTAIN AIR FORCE STATION in Southwest Colorado Springs
Stratmoor, Broadmoor Bluffs, Cheyenne
Recreation
The sun shines upon Colorado Springs more than 300 days of the year, encouraging a variety of recreational and leisure activities.  The Alpine desert climate gives us just enough rain and snow to remind us we have four seasons.  The average humidity is 51.5 percent.  This lends itself to mountain hikes, mountain biking, fishing, and plenty of games and sports.
Attractions and Activities
Whether you plan to visit local attractions often or simply to tour with your houseguests, there will always be interesting places to show.  The landmark United States Air Force Academy sits right along a major hiking and biking trail that runs north/south through the area.  It passes the Garden of the Gods where you find red rock formations.  Children enjoy visits to Cheyenne Mountain Zoo and Seven Falls Park.
Over 150 city and state parks add to the beauty of Colorado Springs.  Seasoned trails lead through many of them, including horse trails.  You'll be able to explore the Great Outdoors in larger ones like Pulpit Rock Park, Palmer Park, Pikes Peak Recreation Area, and North Slope Recreation Area.  Then, it may be time to head out for whitewater rafting in Canyon or alpine skiing and fly-fishing in the High Country.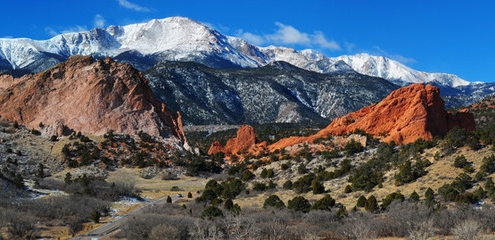 Education and Economy
Good public and private schools feed into robust options for higher education.  More than a handful of colleges and universities present residents with a variety of options.  These schools feed into the needs of local employers and large companies.  The equation feeds many sectors of the Colorado Springs economy.  It weaves around the health industry, tourism, defense industry, and a strong IT community.
In addition to the US Air Force Academy, colleges include Pikes Peak Community College, Colorado College, Colorado Technical University, DeVry University, University of Colorado, and Webster.
Colorado Luxe Living agents offer personalized resources and discounts for PSC military families.  Call Colorado Luxe Living Real Estate at (303) 205-7875 for more information about Colorado Springs real estate investments to fit your goals and fulfill your needs.  Our Realtors and Property Management team serve Pikes Peak, Denver, and Summit County regions.
https://www.coloradoluxeliving.com/wp-content/uploads/2019/08/FeaturedCommunityPhotos-ColroadoSprings-AirForceChapel.jpg
541
800
Colorado Luxe Living
https://www.coloradoluxeliving.com/wp-content/uploads/2019/11/logo-top-trans2.png
Colorado Luxe Living
2020-03-28 19:11:34
2020-05-19 17:03:18
PCS Military Families Seek Prime Colorado Springs Real Estate & Resources